Rolls-Royce Spectre EV : price, specs and release date
Rolls-Royce will soon reveal their first electric car. It will be called the Rolls-Royce Spectre EV and will be an ultra-luxury two-door coupe that will go on sale before the end of 2023.
A prototype of the upcoming Rolls-Royce Specter has been spotted testing in public, and exclusive renders give you an idea of ​​what this new ultra-luxury coupe will look like.
Rolls-Royce's first electric car rendered
Will be called the Rolls-Royce Spectre
Based on Phantom, Ghost and Cullinan underpinnings
May share EV components from BMW i7
First deliveries in late 2023
Every new Rolls-Royce to be fully electric by 2030
It will be the brand's first electric car and is set to go on sale in late 2023.
Rolls-Royce Spectre EV :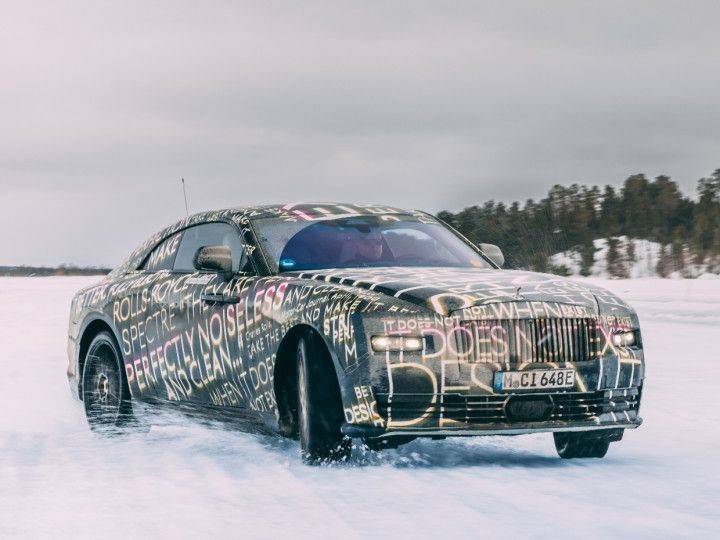 Rolls-Royce's all-electric launch may still be a few years away but that journey has already begun. Well we finally got to see the upcoming Rolls-Royce Specter coupe and it looks like the Goodwood based luxury brand will continue to surprise us with its future models as well.
The Rolls-Royce Specter Coupe is the brand's first electric model that is likely to roll out in late 2023, and for the first time images of a test mule have surfaced online. Like typical prototypes, the test car is fully camouflaged, concealing the design of this new upcoming coupe. That said, a few updates are still pretty obvious.
Rolls-Royce Spectre design :
For starters, the split headlight setup. Yes! How amazing that Rolls-Royce followed suit! The front end gets the split headlight treatment with the main unit positioned slightly lower and the LED daytime running lights (DRL) rising above the brow. The rear-hinged suicide doors borrowed from the Wraith have been retained and design inspiration has been taken from the Wraith, making it look very different.Rolls-Royce Spectre EV
Looking at the side, the Specter will be offered massive 23-inch wheels, even bigger than the 22-inch alloys available on the Phantom. The design at the rear is clean and classy with some snazzy-looking taillights – there's no fake exhaust or huge diffuser.Rolls-Royce Spectre EV
The Rolls-Royce Specter has a more pronounced silhouette courtesy of a sharply tapering coupe roofline that makes the quarter glass look smaller. In fact, you can see a subtle resemblance to the Concept XM in this design, and it's a strong hint for future BMW flagship models like the 7 Series sedan and X7 SUV.
Rolls-Royce Spectre Range and battery :
The new Rolls-Royce Spectre EV will be the first Rolls-Royce to not have a silky-smooth V12 engine under the bonnet. Instead, it will be powered by two electric motors, which makes sense when you consider Rolls-Royce to be all about comfort and relaxation.
Rolls-Royce has yet to confirm what battery will be used in the Rolls-Royce Spectre EV , but it is likely to share parts with the recently released BMW i7.
That car has a 102kWh battery with a range between 370 and 390 miles. Perhaps the new Rolls-Royce will be heavy and won't go far on a full charge. So don't expect it to trouble the 470-mile range of the class-leading Mercedes EQS.
Rolls-Royce remains equally tight-lipped about the new Spectre's electric motor. It can choose to develop its own or it can decide to use motors from BMW.
Check out this BMW 7 Series video to find out what EV components could end up in the Rolls-Royce Spectre EV …
Rolls-Royce Spectre price and release date :
Whichever combination of motor and battery Rolls-Royce chooses, you can bet the new Specter will be one of the most expensive electric cars ever sold. It will likely cost around $250,000 over the current Phantom. However, as with all Rolls-Royce models, the sky's the limit when it comes to cost.
Rolls-Royce has confirmed that the first customers will receive their cars in the last few months of 2023.