2023 Tesla Cybertruck – Review Price and Spec
The Tesla Cybertruck is arguably going to be the most unique-looking car to hit the road in decades. If it ever comes, that's because the all-electric truck has already been delayed twice.
In other words, even when you forget the design, it can look like an electric car. So here's everything you need to know about the Tesla Cybertruck, which is equal parts weird and interesting.
Tesla Cybertruck :
The Tesla Cybertruck looks like it was dropped by an alien race, but it has the power to challenge all the top-selling pickup trucks. With a sharp-edged exterior made of scratch- and dent-resistant stainless steel, Tesla's all-electric truck is seriously tough. Along with available all-wheel drive, the Cybertruck can tow up to 14,000 pounds and has an estimated driving range of 500-plus miles. Although this only applies to the most expensive model, the cheapest starts at $39,900. Of course, there's still a lot we don't know about the Cybertruck, including when it will officially go on sale.
Tesla has already delayed the truck's production timeline several times, but on April 7, 2022, CEO Elon Musk promised again that the truck is coming and will be out in 2023.
Tesla Cybertruck Performance :
The Cybertruck is available with not just one, not two, but three electric motors. Single-motor trucks have rear-wheel drive, two- and three-motor models have all-wheel drive. Tesla claims it will go from zero to 60 mph in 6.5 seconds and top out at 110 mph. The dual-motor Cybertruck will reach 60 mph in just 4.5 ticks and has a top speed of 120 mph.
Those looking for ultimate performance will appreciate the three-motor model, which Tesla says will essentially teleport from zero to 60 mph in 2.9 seconds (!) to a top speed of 130 mph. All CyberTrucks have an adjustable air suspension that can be raised or lowered on the fly and provide up to 16 inches of ground clearance. Add that to its 35-degree approach and 28-degree departure angles, and the Tesla Pickup can prove to be a formidable off-road machine.
Tesla Cybertruck Range & Battery :
Tesla didn't reveal the size of the batteries that will power its electrified pickup. However, every model will have a 250-kW charging cable. Of course, it will also have access to Tesla's vast network of Superchargers. Its driving range varies with the number of motors, but Tesla claims the single motor has a range of 250-plus miles, the dual motors boast 300-plus miles of range, and the top-tier tri-motor setup should provide more than 500 miles on a single charge.
Fuel Economy and Real-World MPGe :
Since there aren't any official ratings for the Cybertruck, we can only go off Tesla's preliminary estimates. Likewise, we'll also have to wait until we get our hands on a real production model to test its ambitious maximum driving range in the real world. For more information about the Cybertruck's fuel economy,
Tesla Cybertruck price :
Tesla recently pulled a bunch of information about the Cybertruck from its website, including specifications and pricing. However, we still know what Tesla said the truck will cost.
The single-motor Cybertruck, the latest expected to go into production, will start at $39,990 — $5,000 less than the cheaper Model 3. Meanwhile the dual motor model, complete with all-wheel drive, was priced at $49,990.
The tri-motor Cybertruck, originally the flagship model, is set to clock in at $69,990. Pricing for the newly-announced quad-motor variant is still unknown, as it never appeared on the Tesla website.
All four models will come with basic Autopilot as standard, but a fully self-driving option will be available for an additional fee. This package currently sells for $12,000, though we expect the Cybertruck to be eligible for a $199-a-month FSD subscription as well.
However, given that the price of the full self-driving Autopilot has increased by $6,000 since July 2019, it's likely on track for further price increases. Elon Musk himself has said as much on multiple occasions (opens in new tab).
The Cybertruck was also due to arrive in the UK. However, Musk said the truck is currently being built to US specifications, since trying to tailor it to every country would be impossible. U.K. pricing and launch details are still completely unknown.
Tesla Cybertruck design :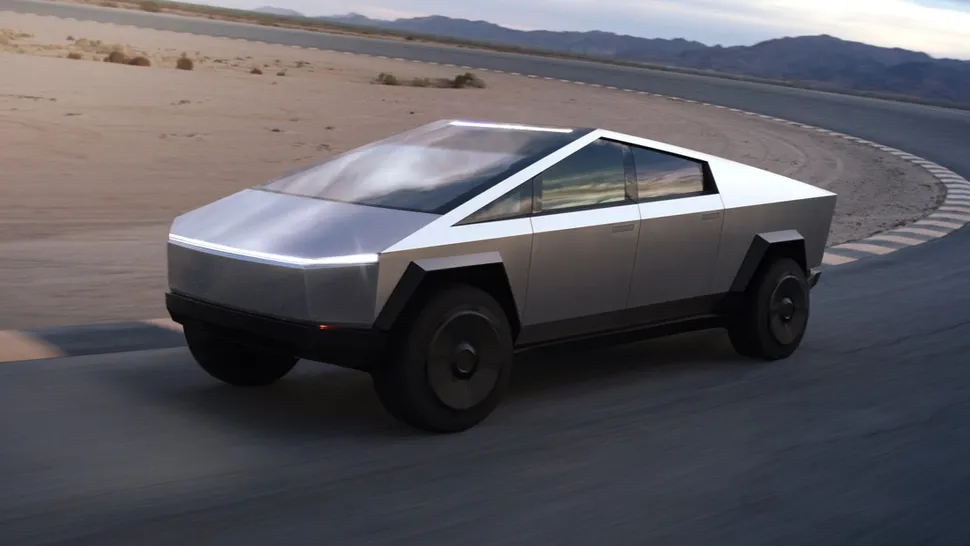 Whatever your opinion of Tesla or its CEO, you can't deny that the Cybertruck has an interesting uniqueness. Musk himself tweeted (opens in new tab) how he believes this is why people find the truck so attractive.
There's a bit of hyperbole there, since the Cybertruck looks like a 90s vision of the future. Yet he's not wrong that the truck is unlike anything else in the automotive industry.
An important thing to remember about the Cybertruck is that the design we've seen so far isn't exactly the same as it rolling off the production line. Musk confirmed that the truck will come with side mirrors, something required by law in the US and other countries.
However, Musk claims (opens in new tab) that those mirrors are designed to be easy to remove. Laws regarding the legality of driving without side mirrors vary from state to state, so potential Cybertruck buyers may want to check ahead of time.
The Cybertruck is also seen with a giant windshield wiper, with only one blade for the entire front of the truck. Considering the size of the windshield, it's surprising that Tesla is opting for a single blade during the testing phase. But Musk confirmed that this particular bit of design isn't final.
In fact, more recent leaked photos offer a closer look at this wiper. Although still plentiful, it turns out that the wiper can be extended, meaning it can cover the entire windshield wipe in one motion without being too cumbersome when not in use.
Being a great non-conformist vehicle, the Cybertruck will also take a stand on the materials it uses. Its main selling point will be the steel exoskeleton, which Tesla claims is made of 30x cold-rolled stainless steel — allegedly the hardest material Tesla could find.
Those leaked images also show the truck without its wheel covers While not aerodynamic, bare wheels look great. All the covers that Tesla has shown before are quite blocky and not that aesthetically appealing — no matter how well they fit the existing Cybertruck design.
When the Cybertruck was first announced (opens in new tab) Musk was bragging about that power, even demonstrating how it performed against a sledgehammer and 9mm handgun rounds. But the glass was not that strong and was shattered by the impact of the metal ball.
It's also worth noting that the truck appears to be available in colors other than the standard metallic silver. We know this tank from a former SRE aerodynamic engineer who posted a photo of himself in a Tesla (via Reddit (opens in new tab)), with a matte black Cybertruck in the background.
However Musk later clarified that the Cybertruck would only come in one color: "None (opens in new tab)". In other words, stainless steel is colorless silver.
Tesla Cybertruck interior :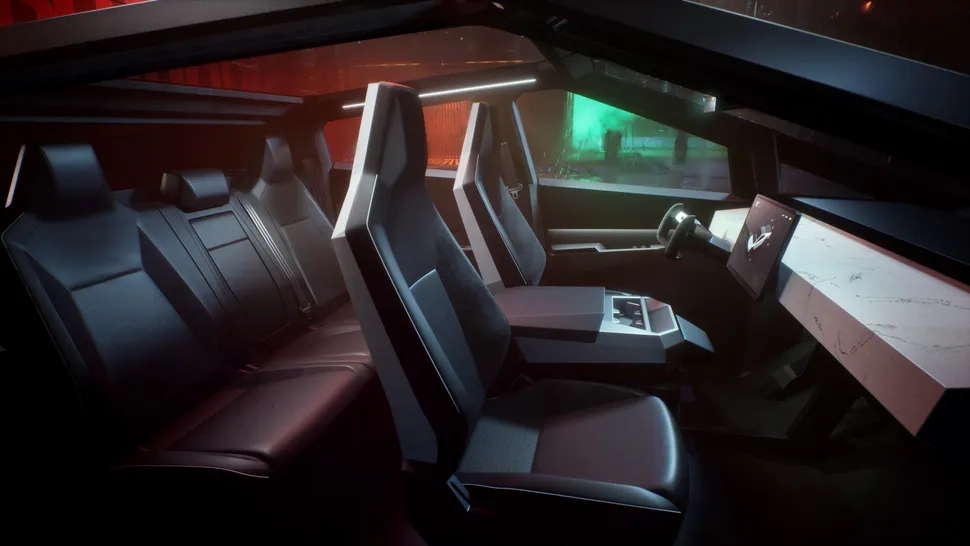 Those who thought the Tesla Model 3 interior was cramped will relive that reaction when they see the Cybertruck's spartan cabin. While many standard features and options have not been revealed, the first images show a slab-like dashboard dominated only by a large touchscreen. Its squared-off steering wheel appears to have some sort of illuminated display, but nothing is confirmed. The Cybertruck will be able to seat up to six people and its 6.4-foot cargo bed offers 100 cubic feet of volume. It also has a nifty slide-out tailgate that doubles as a ramp for loading four-wheelers and motorcycles.
Tesla Cybertruck Infotainment and Connectivity :
As with most of the interior, specific details about the Cybertruck's infotainment system are largely a mystery. However, we do know every model will have a big 17-inch touchscreen that is horizontally mounted in the center of the dashboard.
Tesla Cybertruck Payload Capacity :
If the Cybertruck can really tow as much as Tesla claims, it will have a higher maximum rating than popular alternatives such as the Ram 1500. While the single- and dual-motor Teslas have a maximum tow rating of 7500 and 10,000 pounds, respectively, models with a third motor will be able to pull a whopping 14,000 pounds. Every Cybertruck can also haul 3500 pounds in its 6.5-foot cargo bed.
Safety and Driver-Assistance Feature :
Every model will feature Tesla's controversial self-driving Autopilot feature, and the company says it will offer a Full Self-Driving option for $7000. We also expect other driver-assistance technology to be available. For more information about the Cybertruck's crash-test results, visit the National Highway Traffic Safety Administration (NHTSA) and Insurance Institute for Highway Safety (IIHS) websites.
Warranty and Maintenance Coverage :
Tesla provides a comprehensive warranty on its current models, however, it doesn't include any complimentary maintenance.
Limited warranty covers four years or 50,000 miles.
Powertrain warranty covers eight years, regardless of miles.
No complimentary scheduled maintenance.
FAQ :
How much does a Tesla Cybertruck cost?
 a single-motor, rear-wheel-drive Tesla Cybertruck is $39,900, not including destination charges. The Dual Motor all-wheel drive version starts at $49,900 and the top of the line Tri Motor all-wheel-drive Cybertruck costs $69,900.
what is the range Tesla Cybertruck ?
Tesla claims the single motor has a range of 250-plus miles, the dual motors boast 300-plus miles of range, and the top-tier tri-motor setup should provide more than 500 miles on a single charge.
what is the top speed Tesla Cybertruck ?
The dual-motor Cybertruck will reach 60 mph in just 4.5 ticks and has a top speed of 120 mph.